Meet Dr. Michael Childs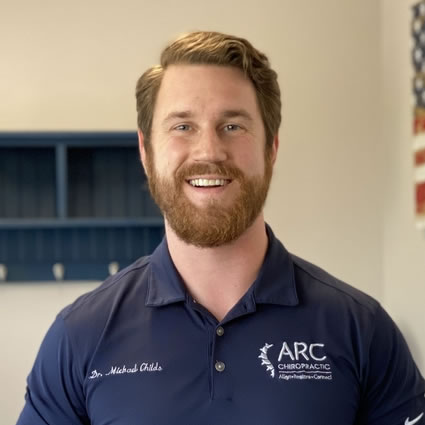 Dr. Michael Childs is the new owner/director of ARC Chiropractic in Saline. His mission is to help family members of every age lead a pain-free life with optimal function. Dr. Michael specializes in customized care plans, with an emphasis on chiropractic pediatric and prenatal care. He utilizes both research-based manual techniques as well as an instrument-based approach.
Passionate About His Profession
When Dr. Michael was attending Grand Valley State University in Michigan, he injured himself while attending a CrossFit class. "I ended up with complete numbness into both of my arms. I didn't know what to do. I ended up going to see a chiropractor. Within a few weeks, my arms were completely back to normal. I was amazed that the chiropractor only used his hands to get me back into alignment!"
A Thirst for Knowledge
Because of his passion to help others, Dr. Michael decided to become a chiropractor. He received his Doctor of Chiropractic degree from Parker University in Dallas, Texas. He immediately immersed himself in memberships and postgraduate study, including
Certification in the Webster Technique
Diagnostic computerized scan technology instruction
Membership in the International Chiropractic Pediatric Association (ICPA)
On a Personal Note
Dr. Michael comes from a large family, so family life is a top priority. He's a huge Lions fan, and also loves watching University of Michigan football and basketball. Finn is his beloved golden retriever and both are loyal fans of all things Star Wars. Dr. Michael is also passionate about brewing his own craft beers, especially those that include chocolate.
We'd love to have you join our loyal and supportive chiropractic family. We feature Saturday and same-day appointments and provide on-site X-rays for your convenience. Contact us today!

Dr. Michael Childs | (734) 429-2410